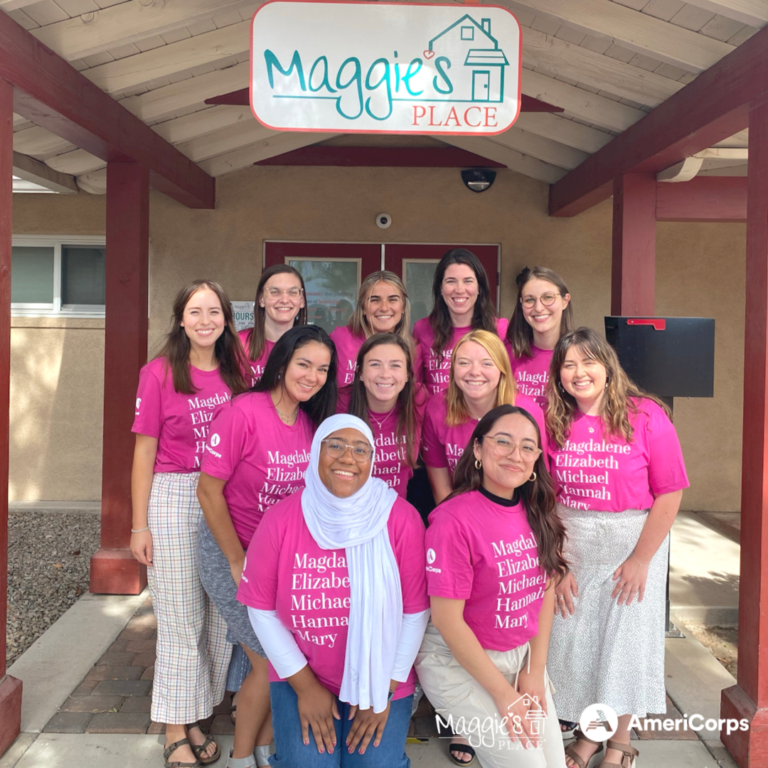 There is still a spot for you in our August AmeriCorps cohort - apply today!
AmeriCorps members spend a year living with pregnant and parenting women formerly experiencing homelessness and now housed in a loving, caring environment at Maggie's Place in Phoenix, Arizona.
Using a trauma-informed care approach, AmeriCorps members are on the front lines of the fight to overcome Adverse Childhood Experiences (ACEs) and break the relentless cycle of poverty. AmeriCorps members at Maggie's Place help transform lives through hope, love and a dedication to servant leadership.
Due to the live-in nature of the work, this is a women-only position.
Radical Living, Radical Love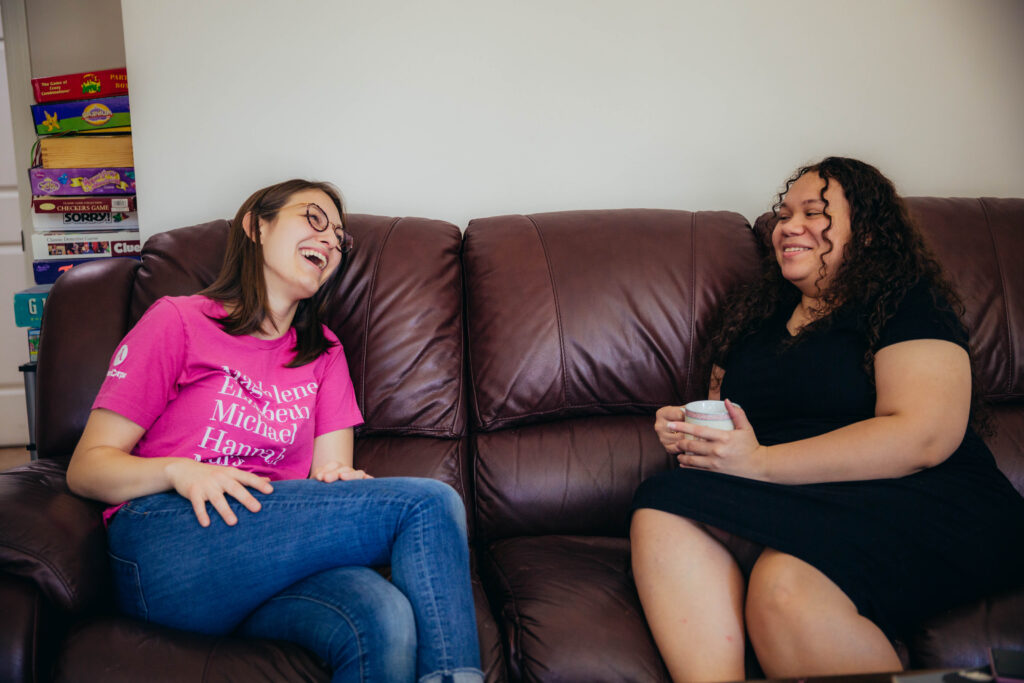 Work as a team with other AmeriCorps members and Maggie's Place staff

Respond to emergencies, crises, and conflicts within the home

Take initiative in one of the following administrative roles in the home: House Manager, Volunteer Coordinator, Donations/House Operations Coordinator, or Programs Coordinator

Plan and participate in community functions including celebrations, house outings, weekly house meetings, Maggie's Place community events, and AmeriCorps community events

Provide transportation in Maggie's Place vehicles for moms and babies to and from Maggie's Place Community events and requested appointments

Provide daytime and overnight house coverage which may include: responding to the phone, welcoming visitors, offering tours, receiving donations, assisting residents in move-ins/move-outs, and responding to the duty of the moment

Foster a home environment where all who enter feel safe, welcomed and respected

Serve as Mobility Mentors, modeling the skills and capabilities that enable moms to respond adaptively to adversity and develop resiliency

Support moms in recovery from substance abuse (including opioid addiction) and provide one-on-one coaching to address risk factors common to addiction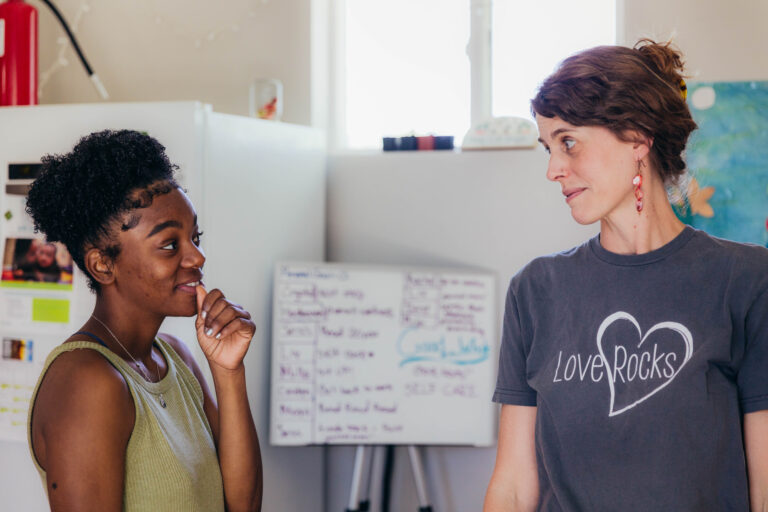 Each day is different depending on the needs of the homes. Your day might include:
Offering meals to community members present in the home

Coordinating care with professional staff

Holding a baby while a mom takes a shower
Accompanying moms to medical appointments, court hearings, classes, etc.

Driving moms to classes or support groups at the Family Success Center

Completing position work such as: making welcome signs, responding to emails, creating a newsletter, tracking house expenses, or grocery shopping for the house

Meeting with moms one-on-one to support them in developing coping strategies and provide encouragement in their personal and parenting goals

Attending professional trainings at the Family Success Center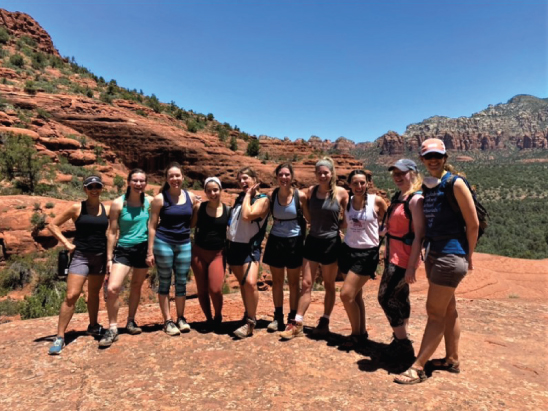 Monthly living stipend of $1,333.33

Monthly self-care stipend of $25

Room and board

Optional health insurance

Ongoing training

Biannual AmeriCorps retreats

Vacation days

Personal time

Access to day off house

Access to community vehicles

Opportunities for individual counseling and group processing sessions

Childcare assistance, if eligible (applicable to live-out only)

Segal Education Award upon completion of service term (summer of service: at least $2,417.14; year of service: at least $6,345)
Training
AmeriCorps members are trained in:
Trauma-informed care

Conflict de-escalation and resolution

Best practices for working with vulnerable populations

Substance use prevention and interventions

Pregnancy, birth, and postpartum support

Infant safety and development

Integrating service experiences into a professional career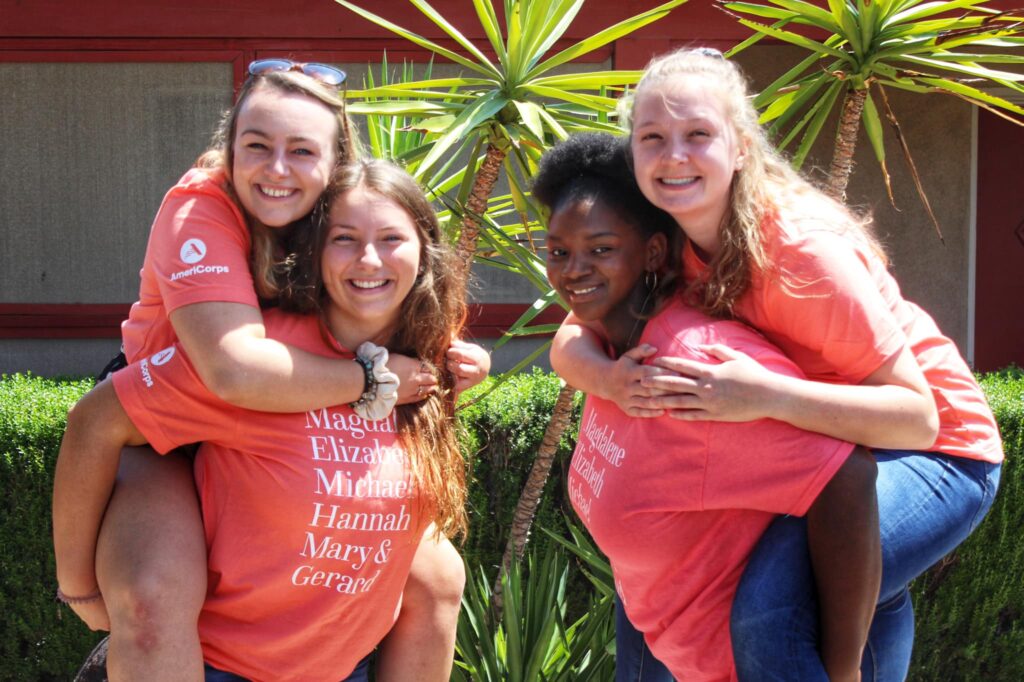 Female-only applicants

High school diploma required

College degree or equivalent life experience preferred

Drivers license preferred

Ideally candidates are 21 years of age and older

Ability to lift 30 lbs.

Flexibility/Adaptability

Emotional maturity

Resilience

Empathy

Accepting of diverse backgrounds, beliefs and customs

Open to growth during challenging situations
Complete online application, or download and complete the application, then email it to [email protected].
Include a copy of your current resumé and the contact information of two references who can speak to your personal and professional character. Summer AmeriCorps applicants need only provide one reference.
We are still accepting applications for the 2022-2023 service year!
If you are interested in a September, January, or other start date, please contact us.
Commitments shorter than a year will be considered.
2023-2024 Year-Long AmeriCorps
Applications Open: September 1, 2022
Priority Year-Long Application Deadline: February 15, 2023 (Applicants will receive decision by March 15, 2023)
Standard Year-Long Application Deadline*: April 1, 2023 (Applicants will receive a decision by May 1, 2023)
*Applications may be accepted on a rolling, case by case basis, following the standard year-long application deadline. 
Service Term: August 1, 2023 – August 31, 2024
Want more info? Contact us!