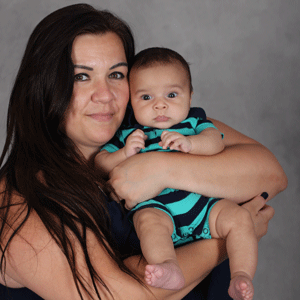 With your investment in Maggie's Place, you give struggling mothers the support of a loving community and a renewed zeal! Thank you for providing moms like Alma with a second chance.
Alma lost her support network due to drug abuse and became homeless. "I was in a dark place. I was so lost and alone." During this time, Alma prayed for help. She began to take the first steps in her sobriety and it was through a sober living facility that Alma would first hear about Maggie's Place.
After learning more about Maggie's Place, Alma thought, "I can do this. This can be my life changing experience." At the time there were no openings in the homes, but that did not slow Alma down. "I kept calling each week and when they told me they had a spot open for me, I was so excited. I was honored to be chosen for this opportunity!"
Alma has been working hard during her time at Maggie's Place! She is working to earn her GED and has a job in telemarketing. Alma is also meeting with a family coach as she prepares for transitional housing. Alma has also taken on a leadership role in the house and helps mentor other moms. In addition, Alma will be celebrating one year of sobriety in January! And most importantly, in June, Alma gave birth to her son Charlie who is such a happy baby!
"I came here with only a few pieces of clothing and now I have everything I need for myself and for my son. I got a chance at life again and the inspiration I needed."
Your contribution shows moms like Alma that you believe in them. Thank you for inspiring these women as they grow into their roles as mothers!