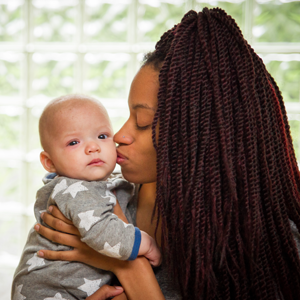 At 19 years old, Angel was living out of a suitcase. Her parents had asked her to leave their family home shortly after she found out she was pregnant.
One day, a counselor at a local pregnancy resource center mentioned Maggie's Place as an option. Angel moved into The Zechariah House, excited to have her own bed, rather than a couch. On that bed, she found a welcome home basket, ready to start her new beginning.
"I was 19 and going to be a new mom, I really just needed a place to rest my head but you provided me with so much more: a family."
While living at The Zechariah House, Angel's primary goal was to learn how to be a good a parent. Experienced moms, volunteers, and MissionCorps provided mentorship. She discovered the developmental milestones of her baby and developed a plan for her family. Angel shared that because she is a mom, she has become a mature, loving, faith-filled woman.
Angel is currently working at a local WIC office as a peer breastfeeding counselor and taking classes online to earn her Associate's degree. Her ultimate goal is to become an equine-assisted therapist.
Since moving out, Angel has continued to rely on The Zechariah House community for support. Last month, she even held a breastfeeding awareness event for other alumnae moms of The Zechariah House!
Maggie's Place has been "a stepping stone for my future."