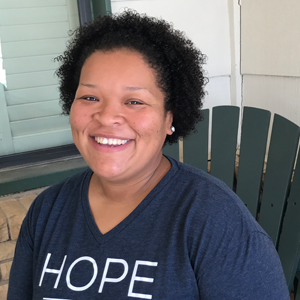 Your gift has given women like Aretha hope. "When I walked through the doors of Maggie's Place, God deposited a seed of hope, and it just keeps growing. I knew hopelessness from a very young age. When I found out I was pregnant, I knew the cycle had to end. This baby deserved for me to be clean and stay that way."
As she prepares for her baby's arrival in October, she has loved being a part of a family with other moms and staff. "I'm so grateful that I got here just a few weeks into my pregnancy. Watching other moms feed their newborn and staff read to the babies is preparing me for motherhood."
Through Counseling and Relationship Support Group, she's come to learn that she's worthy of love. She especially loves being a part of a compassionate community. "I've lived in houses with a lot of people before, but we never came together the way we do here. It's teaching me to rely on people and do little things for others to show them they're loved and appreciated."
Aretha's goal is to attend ASU and graduate with a degree in Social Work and one day, open a home for victims of sex trafficking. She sees her time at Maggie's Place as God preparing her to help others: "Why not me?" Her message to other struggling mothers is this:
"There's help for you. I live there. It's clean, it's peaceful, no one judges you. The only thing is you have to call. If you have nobody, you'll have somebody."
Your generosity ensures Aretha and moms can find a peaceful home to welcome their baby and reach their goals.