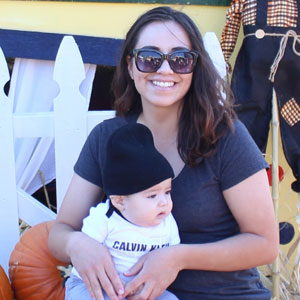 Before coming to Maggie's Place, Tiana was living out of her car and in a toxic relationship. She knew she needed something better, and found Maggie's Place in online search.
"Maggie's Place has given me stability for the first time in my life." She values the security, hot meals, clothes, and support. "It's amazing how things offered at Maggie's Place are priceless. It's helped me stay sober, save, and manage my time." Her precious baby boy, Czar, was born at the end of April.
Through this growth and stability, Tiana has been able to start taking classes to become a medical assistant through Pima Medical Institute. She finds strength in the VOICE program, a mentorship group that promotes each woman's dignity and self-worth. Through weekly counseling, she has found strength to withstand more of life's challenges.
"Maggie's Place has made a lifelong imprint on my life. Here people are sincere and show their love. All the little things go a long way."
Thank you for providing women like Tiana with a safe home and life-changing services. Your generosity is empowering each woman as she builds a new life for herself and her children.