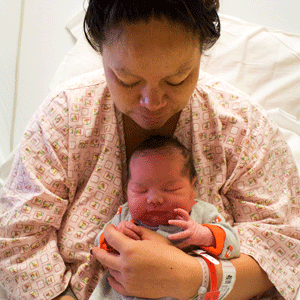 Thank you for your contribution to the moms and babies who call Maggie's Place home! You've helped ensure that moms like Veronica can begin anew after a difficult past and can in turn help others have a fresh start.
Veronica was taking a hold of her sobriety through a rehabilitation program. She did not have healthy family relationships to support her efforts, nor her pregnancy. Veronica heard about Maggie's Place through her drug rehabilitation facility. She moved into the home just a few weeks before her scheduled release date. "If I didn't get in here, I don't know where I would be with my baby."
Veronica is currently working part time, building her savings and excelling in her sobriety. She is looking to secure an internship at a rehabilitation facility and one day become a recovery coach. "I want to give back to the community. I've seen how addiction affects families and it's inspired me to help. I'm able to relate to others in this situation and help them in sustaining their sobriety." Veronica is also now the mother of Andre, who was born during her stay weighing in at hearty 9 lbs 5 oz.
"As time passed, I couldn't believe that I was actually here. It was God's way of opening a new path for me. I can do good with my life with the support of Maggie's Place."
Without you, expectant women in need would not have the support of a loving community. Thank you for providing our moms and their precious newborns with a safe place to live and opportunities to thrive.