Maggie's Place is a 501c(3) not for profit organization. On May 13, 2021 we celebrate 21 years of service to our moms, families and community. From one home to four, from hosting five moms our first year to serving more than 1,000 since our founding; it is because of our volunteers, moms, Board of Directors, AmeriCorps members, staff, donors and community partners we are able to grow and thrive. We are so thankful.
Our Mission: Maggie's Place welcomes pregnant and parenting women and their children into a safe and loving community, providing life-changing programs and ongoing services to help them to become self-sufficient.
WE PROVIDE SAFE AND SECURE SHELTER
Women are welcomed into loving homes during the course of their pregnancy and for up to a year after giving birth. But our efforts don't stop there, each woman is paired with a Family Coach and an AmeriCorps member who provide support in the development and implementation of individualized plans that help women achieve self-sufficiency for themselves, their babies and their futures.
ONGOING PROGRAMS AND SUPPORT
Once A Maggie's Place Mom…Always A Maggie's Place Mom!
Upon transitioning from a Maggie's Place Home, women and their children are provided with ongoing support, including parenting education, child development and enrichment programs, employment assistance, social events and programs for improving family relations.
Your Support Changes Lives
bed nights of safe shelter and life-changing services were possible.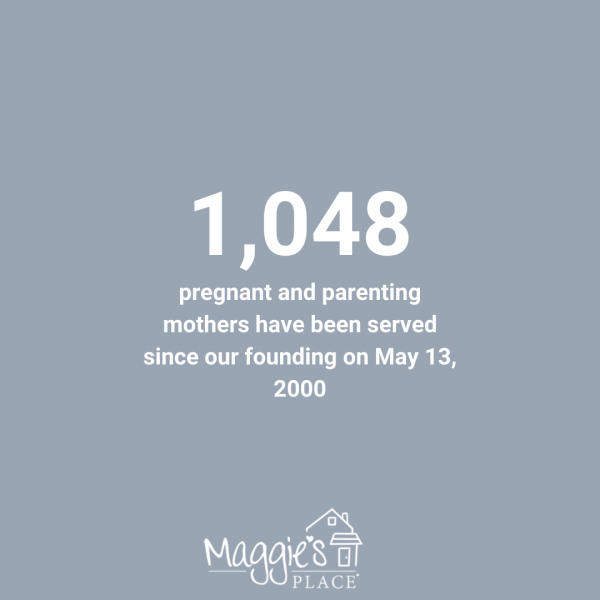 "I was 19 and going to be a new mom, I really just needed a place to rest my head but you provided with so much more: a family."
"Maggie's Place is my biggest support. They opened their doors to a stranger. I think about all the support, encouragement, and unconditional love I received here. I'm not alone in the struggles I'm experiencing in life"
"Here, I have a stable evironment in which I can pursue my goals in education and employment while living a healthy lifestyle for my pregnancy. I have never in my life had so much hope and help like Maggie's Place"