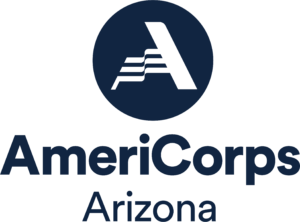 AmeriCorps is a volunteer organization partnered with Maggie's Place to provide quality care. AmeriCorps members spend a year living (sometimes a gap year) with pregnant and parenting women formerly experiencing homelessness and now housed in a loving, caring environment at Maggie's Place in Phoenix, Arizona.
Using a trauma-informed care approach, AmeriCorps members are on the front lines of the fight to overcome Adverse Childhood Experiences (ACEs) and break the relentless cycle of poverty. AmeriCorps members at Maggie's Place help transform lives through hope, love, community care and a dedication to servant leadership.
Due to the live-in nature of the work, this is a women-only position.
Complete the online application, include a copy of your current resumé and the contact information of two references who can speak to your personal and professional character. Summer AmeriCorps applicants need only provide one reference.
Year-Long: August 2024-July 2025

Summer: June 2024-July 2024