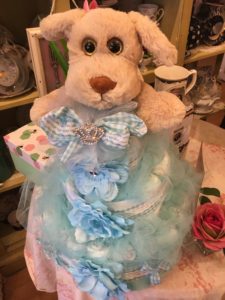 Saturday marked the celebration of Prince Harry and Meghan Markle's soon-to-be royal little one. The English Rose Tea Room in Carefree threw a baby shower and the gifts were for Maggie's Place babies. Jo Gemmill, owner and Maggie's Place friend, celebrates tea for all royal events. She is an English transplant after all.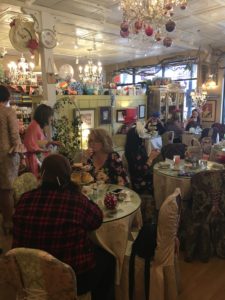 She brought tea to the desert 17 years ago and now the babies of Maggie's Place are the luckier for it.
The tea room was packed full of ladies in hats enjoying scones, tea sandwiches and playing shower games. They made guesses on the date of the royal baby's arrival, weight, sex and name as well as uncovering the mystery of nine royal baby pictures who's who. They were all featured from Diana to Harry and Wills to babies Charlotte and George.
The table on the patio was overflowing with gifts for Maggie's Place babies and the ladies even had to bring diapers, bibs and more from their cars.
Many guests were unaware of the work of Maggie's Place and so our moms and babies can count some new friends amongst the group. The ladies learned about our moms and babies, the Family Success Center and our overarching goal of helping women who come to us frightened, pregnant and homeless leave with the ability to take care of not only themselves but their little ones for a lifetime.
Jo believes it's important to her to give back to the community and told the crowd she loves the work of Maggie's Place and was so pleased this royal event could benefit our babies. We left with not only beautiful gifts for our babies but new friendships as well.
Cheers!
You can visit the English Rose Tea Room here.