The kids may have just gotten out of school but at Maggie's Place, we're already looking at sending them back prepared and ready to succeed. Every year in July, Maggie's Place kids come to the courtyard for backpacks, supplies, haircuts, shoes and all things school related. A peek behind the curtain shows just how in need our Arizona kids are when it comes to school needs.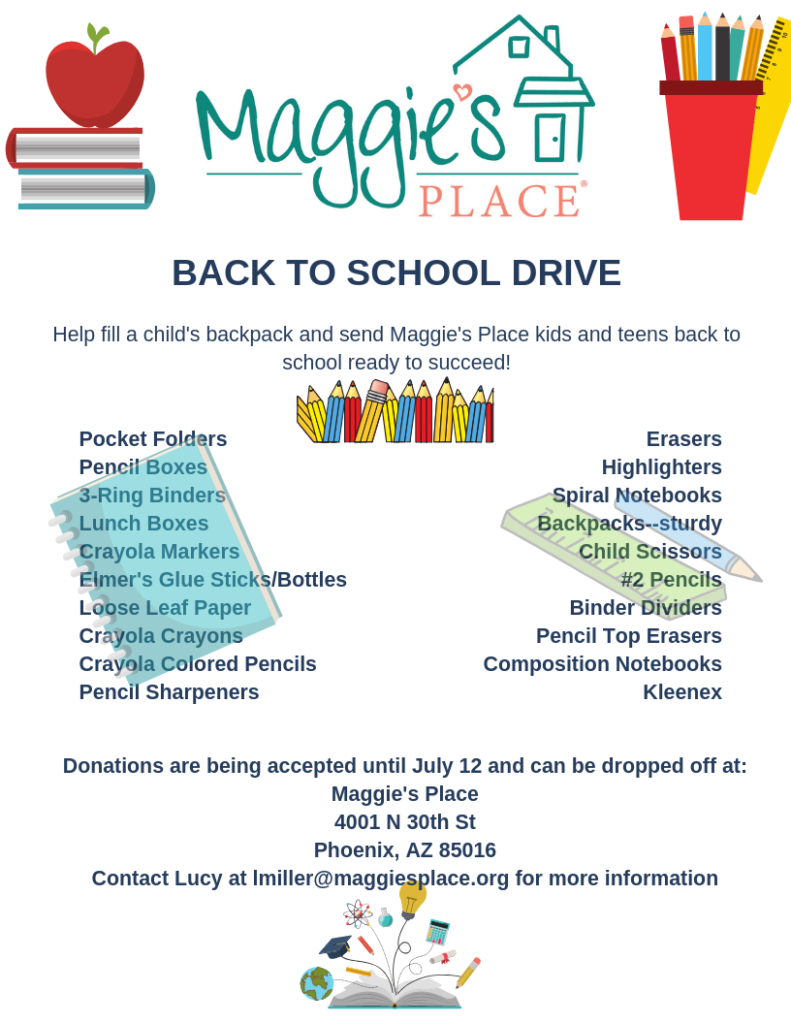 The 2018 estimated cost to send a single child back to school was $1355. That figure includes not just school supplies but some clothing, shoes and necessities. For one child. The National Center for Children in Poverty reports that in Arizona there are 770,423 families living below the Federal poverty threshold. The report gives a larger picture of children living in poverty including:
54 percent have at least one parent who is employed full time.
Only 19 percent have unemployed parents.
35 percent of those children have parents with some college or a college degree.
50 percent live with a single parent.
48 percent are six-years-old and above, which means they are going to school.
The Food Action & Research Center reports that half a million children in Arizona receive free or reduced lunches. Another 260,1000 have free or reduced breakfast.
It makes sense that these children would have no, or little, access to the supplies they need to return to school prepared and ready for success. That's why every year at Maggie's Place, we spend the Spring and early summer collecting backpacks, crayons, pencils, lunch boxes and other needs for the kids we serve. Here is our list for this year and our link to our Amazon Wish List where you can have supplies sent directly to us–no shopping in the heat!
You are a huge a part of the solution. Each year, Maggie's Place donors gather supplies and make sure our kids go back to school with full backpacks. That's the difference you make.
"Social change comes through people."  –Paul Watson