We all have preconceived notions about others. We would not be human without them. That includes the mothers at Maggie's Place–where they come from, how they've journeyed to us and what will happen once they leave us. Monasia, a mom at The Elizabeth House, turns those notions and opinions on their heads. We cannot wait to see what she accomplishes.
She is 23-years-old with a baby girl due in June. She speaks Creole, French and English. Her mother is from Jamaica. She has an Associate's Degree in real estate and business and she relocated to Phoenix to be closer to her mother. She came to Maggie's Place to escape an unhealthy living environment.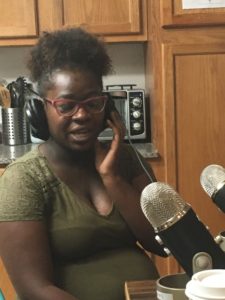 She grew up in Baltimore, one of 10 children. By the time she was seven-years-old, she was experimenting in the kitchen and cooked her first big family meal at age nine. She tells us she can come up with a meal when people say, "There's nothing to eat." And everything she cooks is from scratch. The moms and Corps at The Elizabeth House got a taste of scratch made pancakes last weekend. They say there's definitely a difference.
In addition to cooking, she can draw almost anything, sews and masters all things domestic. Until her doctor ordered her housebound for hypoglycemia she was managing a hotel and had a second job at a nursing home. How does a girl like Monasia end up needing help? She has an older child with cerebral palsy. There was no room for her in her mother's home. She was terrified to find herself pregnant and alone and was surrounded by negativity and limited resources. She wants desperately to be on her own.
Learning about healthy relationships and boundaries through family coaching and Corps in the house serve as valuable lessons.
"Christina has taught me mindfulness, how to stay positive, how to combat frustration and grounding exercises. What I've learned from her is I can do anything I put my mind to." She adds that Christina, her AmeriCorps mentor in the home, is always interested in her, how she's feeling and helping her move forward.
She says Maggie's Place has also taught her how to budget and save money, offered classes in car seat, infant and baby safety as well as the feeling that "all will be okay and they will always be here." And they support her dream of having a food truck. She says in a year she'd like to see herself with a cook book, perhaps a catering business and a food truck.
As for the baby girl on the way, "I was really scared when I found out. But now I have the motivation and the knowledge to care for an infant."
Baby Egypt will be joining the moms and babies at The Elizabeth House but also a mom who feels ready and able to care for her and build a future together. With home made food. Does it get any better than that?