By: Valentino Mejia
"Thank you for calling Maggie's Place, The Elizabeth House, this is Valentino, how can I help you?"
It is with great sadness that I say my internship at Maggie's Place has come to an end.
When I first started at Maggie's Place, I was so excited to step foot in the house and make my mark. I desired to be a positive influence and a source of support for the women who lived at The Elizabeth House. On day one, it was a bit nerve wracking knowing I was a young male entering a house full of pregnant women. I wondered if the women would struggle learning how to comfortably interact with me. Thankfully, this was not a problem.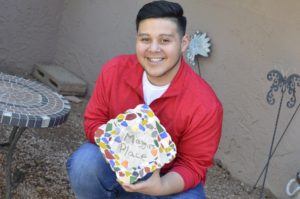 The moment I entered The Elizabeth House, I felt nothing but love. The atmosphere was just so full of positivity and pure happiness. As the house staff gave me a tour, I thought it fascinating that the majority of the items in the house, and the house itself, were donated by community members, local organizations and companies. I realized the amount of love people have for Maggie's Place and it inspired me to create my own love for the organization.
Maggie's Place showed me that love is something that can be given to someone no matter where they come from. It is a ticket to happiness and the light that guides us through hardships. The presence of love and faith is what drives Maggie's Place, and the women, to push themselves to be their best. As the weeks of my internship went by, I formed meaningful connections and watched the women at The Elizabeth House blossom into strong, fierce, and loving mothers. I watched them learn to be responsible for their actions, create better lives for themselves and, most importantly, learn to be loving mothers to their beautiful blessings on the way.
In the last few weeks, I've been able to reflect not only on the impact I've left on the women of Maggie's Place but the impact they have left on my life. They have shown me that no matter how hard it gets, it's always important to stay positive and never give up. When you are talking to a woman who has emotionally suffered through traumatic events like domestic violence or rape, while being homeless and pregnant, the message's meaning is more inspiring because it demonstrates perseverance and commitment.
The stories and advice I've received from the women of The Elizabeth House will always be remembered whenever I feel lost or discouraged. The women have become role models in my life and I aspire to be as confident and strong as they have become. The beauty is that the whole time, the mothers thought I was there to benefit them. Little did they know that they influenced my life in ways for which I will always be grateful.
My goal to create a special kind of love for Maggie's Place has been achieved. I am so excited to see who the women in the house become and what they do for themselves and their children. I have no doubt they will conquer anything they desire in life. I will always be thankful for the academic, personal and professional impact Maggie's Place has left on me. I am now ready to take on any challenge that comes my way.
Thank you, Maggie's Place!