In keeping with our goal to provide news from our AmeriCorps, today we hear from Thy, who is serving Maggie's Place at The Michael House.
"I came into a year of service without knowing what I was really getting into. I was a recent grad starting off in a new city and doing a job I had no idea how to do. It was a huge leap of faith that challenged me to trust in God and my passion to serve that led me to Maggie's Place.
I started my year in July with an honest prayer, 'God, teach me to love beyond what I think I'm capable of,' a prayer that led me down a path of heartbreak and overwhelming joy for which I am grateful. One thing I've learned, among the many at Maggie's Place, is that love changes you. Not always in big moments and not always right away, but slowly and surely you'll notice. Love has become the thing that drives my day when I'm feeling motivated and the thing that I always return to when I've gotten lost in the busyness.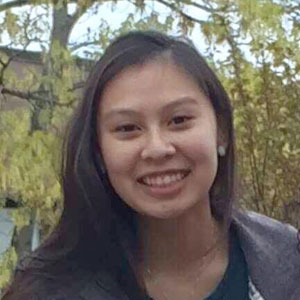 I am often reminded of Mother Teresa's quote, 'We cannot all do great things. But we can do small things with great love.' Our life as a Corps looks different every day and we could be asked to do things at unexpected moments. I can honestly say I have not had the same day twice. Our day might involve taking a mom to a doctor's appointment, holding a baby while a mom cooks, accepting donations or other miscellaneous things that come up while living in the home. My to-do list might have three things one day and ten things another day.
There are moments in my day, though, where the work isn't always obvious. Because I'm a task oriented person, I struggle with moments where being still is very uncomfortable. But when I'm still and sitting in community space, I've allowed room to be present to whomever is with me. This may be sharing a meal with a mom at the dining room table, bursting into laughter with a mom who shared a story from her day, a volunteer who is preparing a meal for us in the kitchen, or time for me to read.
Being present allows me to be a part of a mom's life and we get to share this time together; the human connection for which we all long. How beautiful it is to offer that up to others. Love is present in those moments we share with others. Being present to the moms, babies, and Corps is sometimes the 'small thing' that reminds me that any work done in love is work worth doing."
The moms, babies and all of us at Maggie's Place are thankful for Thy.