Events are important at Maggie's Place. We celebrate everything. We rejoice when a mom or baby hits a milestone. We are known to cry from time to time–first steps, answered prayers, new jobs and moving on. We also love events that bring our community together to celebrate what we do, how we do it and why it's important. And, of course, to raise money for those things to happen!
This year's line up (so far) includes dance, dinner, lobster, silent auctions, live auctions, golf and shuffleboard. That's just what fills the schedule right now. We are always open to events to benefit Maggie's Place, partnerships and awareness.
In Ohio, supporters of The Zechariah House will be doing The Maggie's Place Shuffle on March 8 at Forest City Shuffleboard. We're pretty sure this is the first time we've hosted this particular kind of tournament. Teams of two or four can register and singles can also play. How competitive they'll get is anyone's guess. The night includes dinner, raffle opportunity and, perhaps, a learning experience. Our Cleveland supporters can sign up here.
The Mayuri Dance Group presents, "Shakthi, The Power Within."  It is a presentation through dance that honors the female principle of divine energy.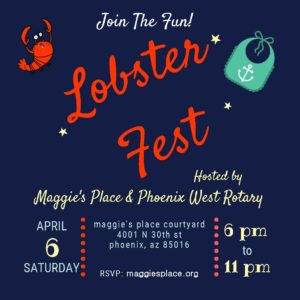 Individual dances will focus on the strength and resilience of women. The organizers came to us because they feel our mothers represent all that encompasses in their journey. Proceeds from the performance go directly to Maggie's Place. The event is 3:30 p.m., March 31, at the Annette Scott Ward Performing Arts Center on the Chandler Gilbert Community College Campus and tickets are $15. For details and to purchase tickets visit here.
On April 6th, lobster, potatoes, corn on the cob, dancing and auction will fill Maggie's Place courtyard. It's Lobster Fest, a joint fundraiser with Phoenix West Rotary. Grab your bib–if you don't have one–we will, and be a part of the yummiest fundraiser this year. Did we mention the signature drink? Guess you'll have to join us to see. Those tickets are available here.
Did you ever want to golf the Biltmore course? Here's your chance. CRENAB's Sixth Ever Tournament is slated for Friday, April 12. Right now you can register your foursome with a $100 discount here. You can join the festivities of the day including a Bloody Mary Bar to start the day, mystery hole sponsors, major prizes and the famous CRENEST after party. Golf or not, they say this party is a don't miss. Proceeds benefit Maggie's Place.
We keep golfing after that–this time in Ohio. The Zechariah House is bringing back its popular Scramble For A Cause at Shale Creek. All proceeds go to support the mothers and babies at Zechariah and dinner is open to guests even if they don't play golf. If you're in the Cleveland area on June 9, this one's for you. Get your golf on here.
Where's the MOM Event you ask? The Miracle of Motherhood is slated for September at a brand new indoor location along with some new tastings and surprises! Stay tuned for more. The Ohio MOM Event is September 13 at The Shoreby Club, an historic site on Lake Erie. Both events are signature events in the lineup this year.
And A Race For Maggie's Place? We are moving the race due to weather. Each year, weather has proven a factor in our October dates. We are moving the race to the spring (February, March, April) of 2020 as a kickoff to our 20-year celebration. Yes, Maggie's Place celebrates it's 20-year anniversary in 2020 and we think the race is a perfect start to the party!
Of course, you can always sponsor, donate, or volunteer for any of our Maggie's Place events. Just drop us an email and we'll put you to work!