AmeriCorps Member Amy shares her thoughts with us…
"It would be amazing, but it's not realistic." That's what I told myself when the idea of spending a year at Maggie's Place came into the picture. After attending The University of Scranton, a Jesuit university, I spent a lot of time imagining myself in service, but the option of doing a year was off the table. I wanted to get my Master's in Social Work. Grad school was my next step and nothing could get in my way. During spring break of senior year, my college offered a trip to Maggie's Place. I thought the organization's moral foundation was right up my alley. I could get my last dose of service before heading to grad school. All that changed once I arrived.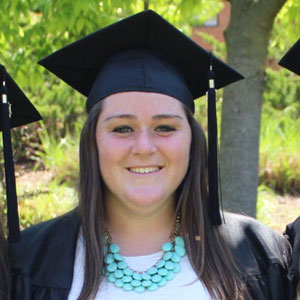 Spending a year at Maggie's Place soon became realistic. I would never have guessed I would end up here; but I know being here is exactly where I'm meant to be. The past seven months at The Magdalene House have not been easy, but they have been months full of growth, heartache, laughter, humility, and most importantly, joy. As much as I didn't think I needed any of those things, I was wrong.
I was happy, humble and strong, but now, I am all things combined, and they have an entirely different meaning to me. I am happy because I've learned happiness is not defined by concrete and physical things. Happiness is defined by laughter, working with a mom to achieve a goal, watching The Magdalene House's favorite movie, or seeing a mom's face light up when she hears her baby's heartbeat.
Humility is about realizing not just how grateful I am for everything I've been given, but also for Maggie's Place moms teaching me that we all make mistakes, including me. I am humbled by the amount of heartache they've faced, yet continue to push forward. I am humbled by the way one mother can help another when exhausted beyond belief. I am humbled by the way their pasts are used as a fire to push them forward proving they are coming back stronger than ever.
The strength I see each and every day continues to amaze me. I have never experienced the things they have, yet I watch them handle it with so much grace. They teach me strength is about not giving up. I've learned how to be a stronger person. I've learned to handle things I don't think I could have before this year. There are nights I can't keep my eyes open anymore, but I do, because of the strength the moms have instilled in me.
I thought I came here to help the moms. I never knew how much they could help me. I know I'm not the same person I was when I arrived in July. On the hardest days, I remind myself I signed up for a year to be selfless and that is what I'm going to do. The moms must persevere through so many hard things every day of their lives. I can persevere by their sides.
Coming to Maggie's Place is the best decision of my life, and my heart aches thinking about July when it will be time to say goodbye. All I can say is, Maggie's Place was the best reason in the world to push off grad school for a year and I will be back.