According to the National Alliance To End Homelessness, the estimate for those experiencing homelessness in America in 2017 was 553,742. Add pregnancy to the equation and you realize the vital importance of Maggie's Place, what we do and who we serve. Our moms, babies and children are not just nameless faces and statistics. We are often asked who are the mothers at Maggie's Place. The Zechariah House in Ohio shared this story with us.
It is the story of Cheryl. Cheryl's son was born prematurely at 24 weeks and 6 days on October 26. He weighed only 1 lb. 7 oz. and was 10 inches long. He remains in the NICU but, thankfully, is growing stronger every day.
Cheryl was two months pregnant when she was forced to make a change in her living situation. But she had no place to go. She found Maggie's Place and The Zechariah House online. She called.
She expressed relief that she could enter the program but at the same time, felt overwhelmed at the idea of moving into a strange place and not knowing what to expect. What she found was kindness and acceptance. Treating others with dignity is at the cornerstone of the work of Maggie's Place.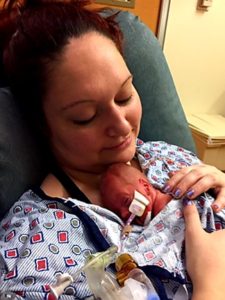 She adapted quickly to a life with stability. She started making informed decisions and learning time management. She opened up in counseling and slowly began to see herself in a more positive light. She was free to work through family issues as well as develop new friendships and a support system.
Her life now centers around her son and helping him graduate from the NICU. She is motivated to get back to work, find an apartment and be the best mom she can be. Through the job readiness resources, she will get help finding that job and financial literacy services will help her create a budget, manage money and move forward. She  says the idea of being a single mom is no longer so daunting and she is thankful for the love and support she receives.
So far this year, in all our homes, Maggie's Place housed 81 moms, 31 babies, 27 older children and provided 15,808 days of shelter.
If you are pregnant and need housing, The Zechariah House is ready to welcome you. In Ohio, call 440-886-2620. In Arizona call 602-246-3724.