We love to share the experiences of our AmeriCorps and MissionCorps members in Arizona and Ohio. Today, we hear from Claire who lives with the moms at Arizona's Magdalene House. Thank you, Claire, for sharing your experience with us.
"With graduation quickly approaching, it came time to discern my next step. I began researching Catholic organizations and found Maggie's Place on the Catholic Volunteer Network. After applying and interviewing, it came time to visit. In the few days staying at The Magdalene House, it was clear that this was where I'd call home for the upcoming year. The family-like atmosphere and the love shared in the home is what drew me in.
Now reflecting back on that decision almost a year ago, I couldn't be happier! One word to describe my experience at The Magdalene House is gratitude. I am grateful for the opportunity to walk with these women who have overcome so many difficult circumstances and situations, many which were out of their control. I am grateful for my family and their unconditional love for me. I have come to realize how immensely blessed my life has been and how I have taken the most basic needs of food and shelter for granted. Not anymore though. I am grateful for the moms trusting me with their babies and their hearts. I am grateful for Maggie's Place.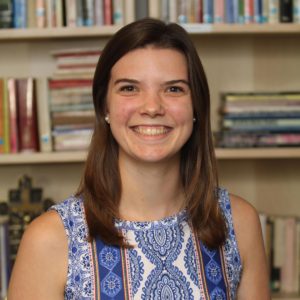 The moms, staff, donors and volunteers have had a huge impact on my life and are such an inspiration. I have heard moms say, "This baby saved my life," and, "I don't know where I'd be without my baby." I have been truly humbled and encouraged by the strength and resilience of each mom. I have seen moms change their priorities and do everything they can for their baby's future.
The love the moms have for each other is also an encouragement. They come into the home as strangers and quickly become family. The moms help each other out with their babies and it is such a beautiful thing to witness every single day. The staff and Corps sacrifice for the moms and enjoy being an advocate and support for them. I have also been astonished by the support from the community in the amount of donations, volunteers, dinners prepared, prayers, and gifts brought to each house.
I have been shown love in so many ways that I never imagined before coming here: The joy of seeing a baby smile at me to being asked to be in the room when a mom gives birth. It has not been an easy year, but it's been the best year. Living and working at the same place has its challenges, but it also has its blessings. The moms and babies I have had the privilege of living with this year will forever be in my life.
We say that love is messy, but also that love rocks! I am so grateful for the family I now have in Arizona. Maggie's Place changes lives and it surely has changed mine."