Tuesday is podcast day at Maggie's Place. We joined Program Director Julie Carlberg, Volunteer Celeste Burton, AmeriCorps members Amy O'Neil and Pinky Guerrero to discuss volunteerism, a year of service and how rules without relationships equal rebellion. The conversation veered to experiencing poverty, human dignity and breaking the barriers of "us" and "them."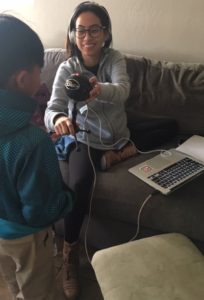 Haven't heard it yet? The brand new Maggie's Place podcast can be heard on Anchor, You Tube, Breaker, Spotify, Stitcher, Pocket Casts. Easy access here.
Every week, it's a different topic that pertains to Maggie's Place: who we are, what we do and how we do it. It's a peek behind the scenes at the organization featuring staff, volunteers, industry experts, mothers and babies and special guests. The podcast is produced every Tuesday for release the following Monday. So you can get your inside look at Maggie's Place each and every Monday.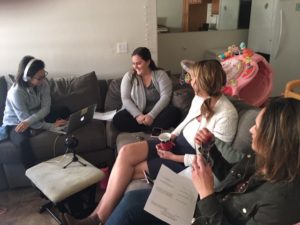 Today, Amy gave us insight into what it takes to be an AmeriCorps based in one of our homes 24/7. Her home currently has five babies and seven moms, with two little ones on the way. Yes, she's exhausted but in a "good" way. She says, "This is exactly what I needed even if I didn't know it."
She tells the audience "Day In The Life" stories and an example of the level of tired with new moms, infants and sleep-deprived AmeriCorps all living together.
One of the Corps says she can't have sugar after a certain time of day or she won't be able to sleep.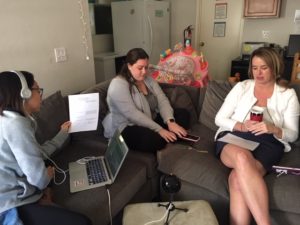 "Do you have diabetes?" questions a mom. They all look at her quizzically. The Corps member was so tired, it sounded as if she said she was going to bed. In their home, the phrase, "You got diabetes?" is now code for, "Are you going to bed?" You only get it if you live life in a house with nine women and a collection of newborns.
"I am blessed to be a part of it," she reflects. "I am only doing it for a year. Our moms are living this day in and day out."
It's part of the cycle of poverty and the dedication of Maggie's Place staff, Corps, donors and volunteers to help break that cycle. "We are all called to that human connection," says Carlberg.
"It's part of the importance of volunteering, "says Burton. "There are days when it's great. There are days when it's not. Don't doubt that when it's not that you are still planting seeds. It's as simple as sharing a cup of coffee or a conversation."
You can hear the whole podcast here. Make it a Monday morning habit. Share a cup of coffee with Maggie's Place.